An Unexpected Run with the Milkfish – Day 2
Categories: Uncategorized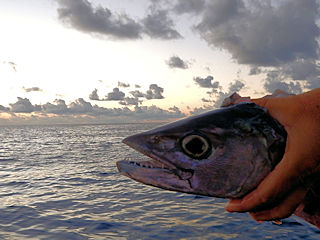 Once again morning came early.  Instead of tossing and turning in bed I was first to the back of the Maya's Dugong where I dredged with my 12-weight for an hour before Lance came and joined.  We landed several dogtooth tunas but they were small.  Then I got broke off by what we figure was a wahoo.  The fish severed my 130lb shock tippet like a hot knife through butter.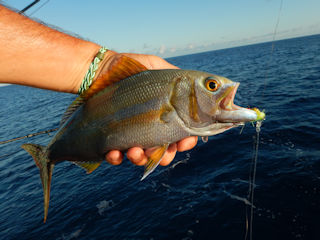 I also landed this mystery fish.  He's a new one for my species list.  Fish identified by Matt Cosson as small toothed jobfish also known as ancient jobfish (Aphareus furca).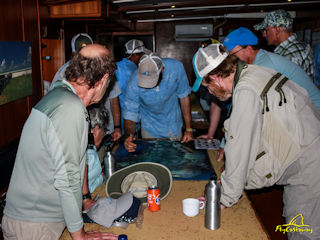 The seas turned uncharacteristically calm overnight.  Calm isn't a good thing because number one, fish feel vulnerable.  Also, wind mixes water and today the water feels warm because it hasn't mixed with cooler water down deep.  We had a big gettogether with the guides and looked over the map of Farquhar Atoll for areas were best conditions may exist.
Sammy and I fished with head guide and friend Matthieu Cosson.  We started with an hour of sailfishing without a sighting.  Next, he and Sammy walked a spectacular flat looking for a giant trevally.  They found nothing but warm fishless water.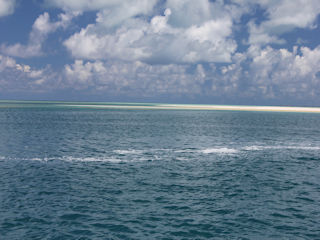 Tough conditions will stress a client but a guide even more.  Here we are at Farquhar, one of the best flats fisheries on the planet and mother nature was working against us.  About then I noticed some milkfish feeding in a scum line.  There were only a few and you really need a bunch to catch a milkfish on the fly but the excitement in Matt's eyes was over the top!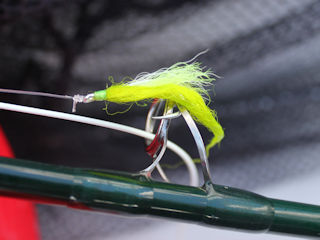 Unlike most fish of Farquhar, calm conditions are ideal for milkfish.  You must see them to catch them and its these calm days that attract them to the surface.  They feed on plankton that accumulates in scum lines and you fish a bright green fly to imitate.  We made our way along the atoll just off the flats and we found the motherload of milkfish!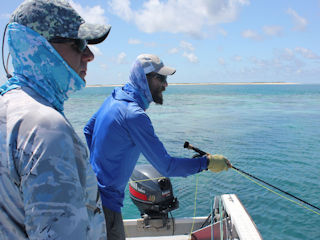 Matt gave us the scoop on how to catch a milkfish.  It starts with a floating line on the 10-weight and a 9ft 25lb leader.  Milkfish don't take flies well so Matt explained the strip – long and slow.  Slower than you can imagine.  Then the hook set.  Once you feel tension it's one hard strip and no more.  Matt ended with the fact that milkfish don't give up – in other words, when we hook one we have our work cut out.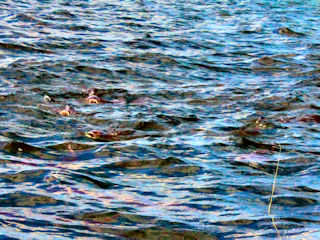 The milkfish (milkies) were of numerous sizes.  Some were huge bonefish size while others were 30lbs or more.  There were layers of them with some feeding on the surface like grass carp and some swimming with mouths open below.  It's the ones we can't see underneath that usually get caught.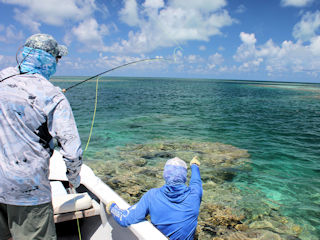 Sammy went first.  As much as I desperately want to catch a milkfish, seeing Sammy catch one would be better.  This is a big adventure for him and with a family and being a doctor, who knows when his next trip of this caliber will be.  Matt directed Sammy where to cast and how to strip.  "Slower Sammy!  Longer Sammy!  Slower!  Longer!", Matt was excited.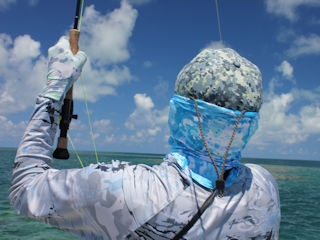 Matt looked back at me and said its gonna happen.  I was skeptical because I've been in this situation before.  But in less than five minutes Sammy hooked up.  Tragically, the line slipped from his hands (sun gloves?) and the milky came loose.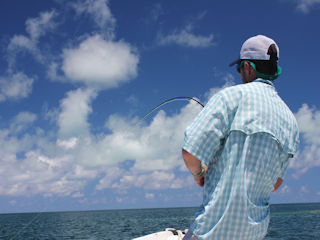 Sammy insisted I jump in.  I did.  Instantly I was hooked into a raging milkfish.  Off he went with the force similar to that of an 80lb tarpon.  It was mind boggling.  He rocketed into the air then proceeded to take off.  I had to keep lots of pressure on because there was tons of coral around.  Five minutes into my battle the huge milky jumped again and spit the fly.  Ugh!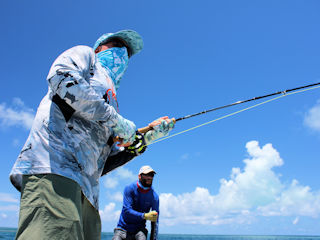 Sammy was back in.  I was confident now.  Hooking the milky seemed easy.  There were a ton of them and they weren't spooking.  I just knew that this time Sammy would keep his on, land it then I'd do the same.  Sure enough Sammy hooked up.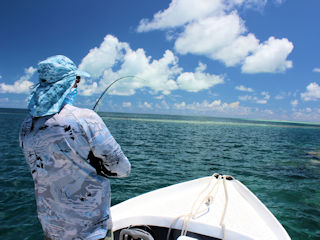 The first move of the milkfish was to run.  There were lots of coral heads near and this fish went at every one.  Sammy did the best he could to horse the streaking silvery fish away and at the same time Matt brilliantly maneuvered the boat to force the milky from the corals, sometimes speeding ahead to get the boat between the fish and the coral.  This hecticness went on for about eight minutes.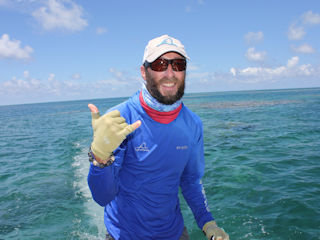 Next the milkfish led us to open water.  This was good because now there were no coral heads.  The bummer for Sammy however was the milky dove down about thirty feet and fought dirty yanking side to side nearly pulling Sam overboard.  He ran all over creating line drag and insecure feelings for we anglers above.  We were certain the feisty fish would find something else to use for escape.
After five minutes of the deep diving tactics for escape, the milkfish (which we estimated at 25lbs) came back to the surface and returned for the corals.  Sammy was getting close and the milkfish was about fifteen feet from the boat.  Things looked good.  Sammy was sweating profusely.  Matt cautioned Sammy that though the milkfish appeared tired they often battle for up to an hour!
On and on the tug of war went.  The milky struggled as did Sammy.  Matt and I were absolutely ecstatically loving it.  Then as Sammy added extra pressure to steer his beast from an approaching coral – it was off.  Dead silence.  Indescribable disappointment.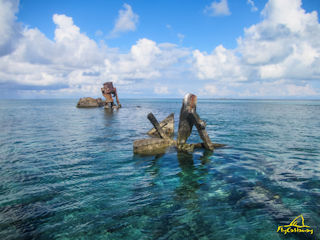 That would be it for the milkfish.  This one long epic battle sent vibes throughout the sea.  All milky schools picked up on the human danger and disappeared.  Shocked.  Sad.  But not defeated.  We headed to wade the flats near an old shipwreck.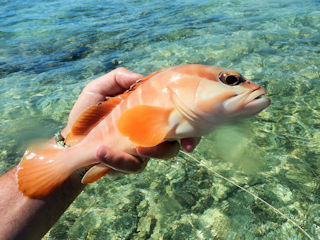 The flats provided us with little glory.  Calmness continued and the water temperature was alarmingly warm.  I played with the random odd fish such as this blacktip grouper while Sammy and Matt cast to very few bumpies and the occasional triggerfish.  A day that nearly provided the catch of many lifetimes for each of us ended with very few photos on the memory cards.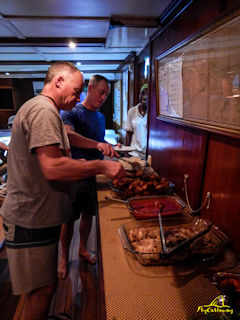 The rest of my group experienced similar results.  There were hardly any giant trevally seen let alone caught, nor a triggerfish or bumphead parrot that showed any interest in the fly.  Fortunately, everyone here has a common goal – have a great time.  When the fish we dream of catching aren't cooperating one has to shift gears.  These are wild animals and we have no control.  I'm pleased to say the guys are going for whatever they can get their hands on with a smile.
Here are a few of today's catches:
John Elgee with an electrically colored bluefin trevally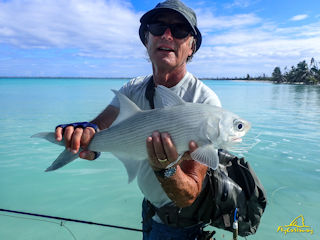 Skip Brittenham with an unusual sixfinger threadfin (Polydactylus sexfilis). Similar to the one I went all the way to Gabon for in March.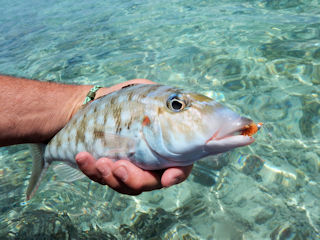 A new species for me – the spotcheek emperor (Lethrinus rubrioperculatus)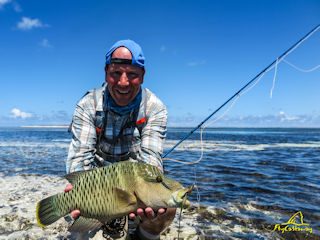 Lance Tomar with a Napoleon wrasse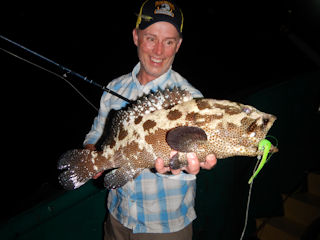 Darrel DeLeon with a grouper off the back of the Maya's Dugong.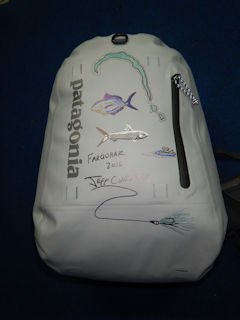 And the "Currier" art has begun at Farquhar
The Seychelles are truly one of the great saltwater fly fishing destinations left in the world.  To learn more or even better, join me on my next trip here, contact me or Yellow Dog Flyfishing Adventures!