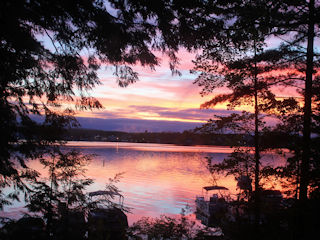 Granny and I head home tomorrow so we started the day visiting dad at the nursing home. He was extremely disoriented and I'm not sure he knew we were there. It was tough way to see him for the last time. I couldn't wait to get to the camp and head out in the canoe fishing.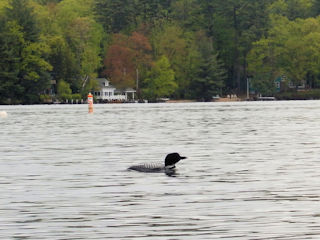 On a higher note, today is Granny's birthday so despite another cold, clammy day, she opted to join me. We grabbed a six pack and I paddled us across Wolfeboro Bay and a few loons. Then, instead of going right into Back Bay fishing we stopped at Garwood's for a killer lunch with mom.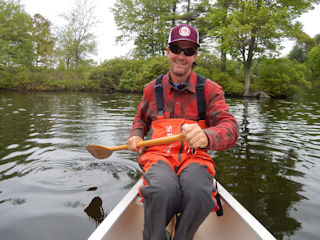 After lunch I took us as far back in Back Bay as you can go where the Smith River flows in. As we approached I could see heaps of hatching mayflies along with numerous rises in mid current. I grabbed my new 4-weight Air and tied on a parachute Adams and handed it to Granny. I could see already the risers were bluegills and pumpkinseeds.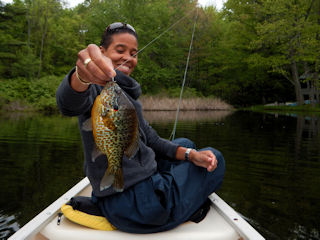 I've seen plenty of rising sunfish in my day but never packed like feeding trout nor have I seen them in such heavy current. It was wild and Granny had a field day catching one after another.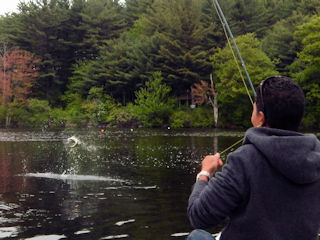 When the bluegill rise faded I made one more attempt to keep them up top feeding. I put on a big red-winged Chernobyl ant – true Jackson Hole style.  While it didn't roust up anymore big bluegill, it brought up the smallmouth bass. And I mean up in the air!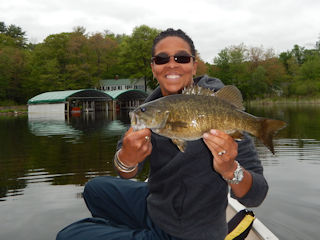 In all my life fishing in Back Bay I don't recall catching any smallmouth bass. Back Bay is a weedy place with few rocks. But in one spot where we got the first, Granny caught three more respectable smallies. My girl had an epic fishing birthday!
I have a rugged 48 hours ahead of me. Tomorrow we fly home. Thursday, I cut the lawn, pay bills and catch up on crap at home. Then Friday I fly to Portugal for the World Masters Fly Fishing Championships. You may recall last year in Ireland.
Here's to keeping it real! Stay tuned for more fishing madness!