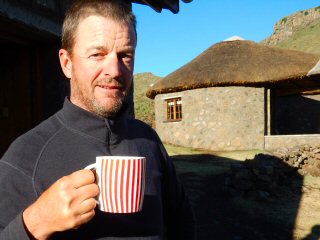 It will be difficult to return home in ten days to deal with winter and even harder to deal with the shortest days of the year.  I can't stand short days.  Down here in Lesotho it gets light at 4 AM and I'm halfway through my coffee by 5.  And just like the last two mornings I ventured on down to the camp pool.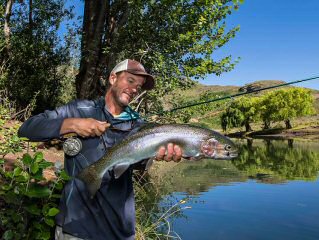 The camp pool started disastrously.  I saw the brown trout and he no longer responds to any fly I flick his way.  I also saw two rainbows and the first was an utter monster.  I got my size 12 flying ant out and front of him and just like the brown trout on day one he rose and devoured it.  I set and once again, as if there was no hook in my fly, I didn't even nick his huge mouth.  Before I could get too distraught, out came this rainbow and without missing a beat I dropped the ant on him and got him.  Phew!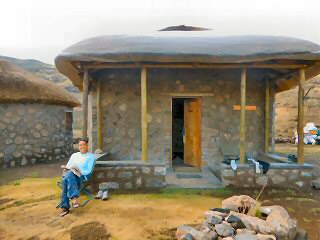 I want the other rainbow tomorrow.  I kid you not, he's bigger.  These African trout of Lesotho are something to write home about.  The guys came down to photograph today's then we had breakfast and let the morning warm up before fishing.  Then Mark, Johann, Keith and I set off way upstream.  Granny had a "ladies day" and chilled out at camp.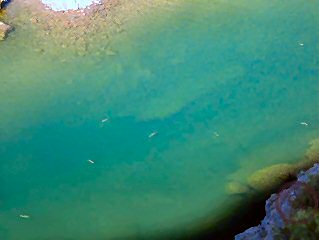 We drove the Cruiser upstream as far as the Makhangoa Community road allowed possible.  Then we hiked to exactly where Mark, Johann, Granny and I stopped fishing yesterday.  This is the beginning of Beat 3.  The day was significantly warmer and there wasn't a cloud in the sky.  The river has dropped another few inches and our ability to spot fish was phenomenal.  We arrived at the first pool around 11 AM and the smallmouth yellowfish were cruising everywhere.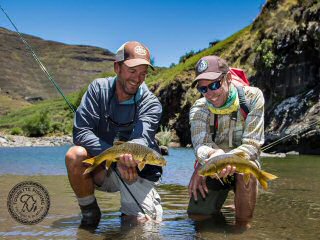 "Cruising everywhere" doesn't mean easy fishing.  I've already learned to respect the yellowfish's ability to detect any sort of trouble in his neighborhood, especially an angler.  Keith and I got in position, he slightly upstream of me.  I can assure you that when I made my first cast the yellows sensed trouble.  I sped my attack up before they were completely aware and got my flying ant over them and luckily one ate.  Just as I stood up for battle Keith hooked one from another school.  Minutes later we landed double trouble.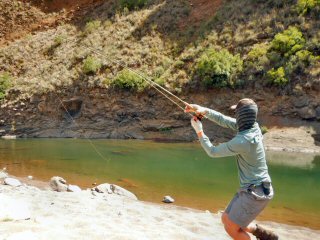 Landing a double in this low water was a miracle.  We went at least another hour before the next hook up.  This time is was Johann and this fish took him for a ride.  I tell you, I've only seen what the guys are referring to as average sized smallmouth yellowfish but they certainly fight hard.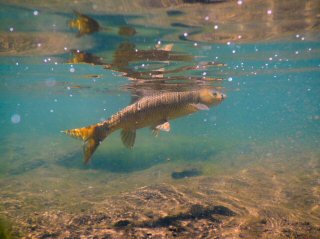 We kept the yellows coming slowly but steadily.  Everyone caught at least one.  By the end of the day we landed seven fish between the four of us.  I was happy with two of those.  My second was special because I stayed back and worked this fish for an hour.  He refused my special ant, the ball biter, and a variety of flies.  I finally got him on a beetle.
We ended our long hike where Beat 4 starts.  Beat 4 is so high up that only Keith has fished 4.  That says a lot because Mark guided two seasons here at Lesotho.  The last few pools we fished had that crystal clear blue looking water and once again Lesotho has reminded me of New Zealand.  This place is spectacular.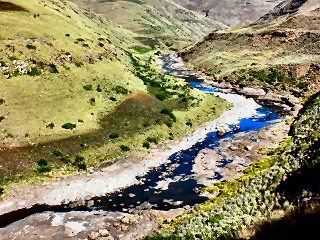 The walk back to the Cruiser was long but enjoyable.  We hiked straight upwards for about ten minutes then took a narrow locals trail along the side of the mountain and looked down on the sections of the river we spent the day fishing.  It's an awesome view and the once again the locals were friendly and curious.  But the river is low.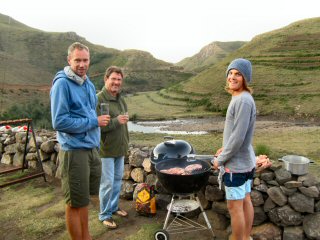 Like every night this trip dinner was a delicious event.  We polished off more steaks, veggies and you name it.  Naturally we washed the scrumptiousness down with wine and beer.  Screw going home to the short days, Granny and I might just stay here!
A special thanks to my friends of Tourette Fishing – Fight it in Africa for bringing Granny and I to the Kingdom of Lesotho!