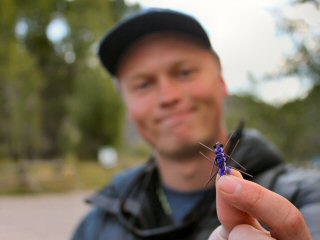 You need to be careful before the Jackson Hole One Fly tournament not to wear yourself out before it starts.  What I mean is don't fish yourself into the ground beforehand by tiring out the body.  Yes, fishing hard works every muscle.  Furthermore, hard fishing exhausts your brain and a tired brain leads to simple mistakes.  In the One Fly, make the mistake of losing your fly and you're out.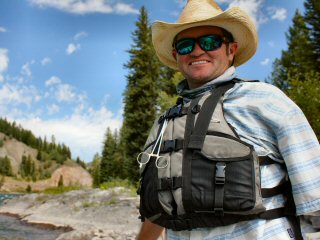 Today I broke my own rules by fishing for the third day in a row before starting the One Fly tomorrow.  Captain Gary Eckman wanted me to spend one more day helping prepare Cooper for his first One Fly by joining him on a guided trip on the Snake.  I so would've liked to rest around house but this guided trip was with top guide and friend, Boots Allen.  I couldn't miss that.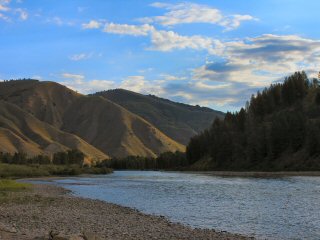 We fished South of Jackson on the Pritchard to West Table section.  It was freezing cold when we started – 34°!  Luckily it warmed up fast.  I dabbled with the streamer but spent most the day kicking back encouraging Cooper.  Boots had Cooper practice with dries and a nymph.  Cooper fished all techniques beautifully and he should be ready for the big weekend.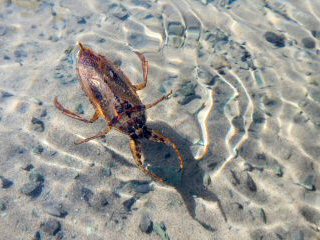 One of the highlights for all three of us was capturing this giant water bug.  This pic does not show his size.  He was enormous!  And I knew enough not to catch him by hand.  Thank goodness I stopped Cooper before he grabbed him with his hand.
There's a lot more to a nice day on the Snake in September but Granny and I just got home from the kick off One Fly dinner and its now 11 PM.  I have to be at the Angus on the South Fork to meet my competition guide Cole Sutheimer at 6:30 AM tomorrow.  I need sleep.  Be ready for results and the One Fly blog Monday afternoon.