Snow Fishing for Brook Trout at Kubswin
Categories: Uncategorized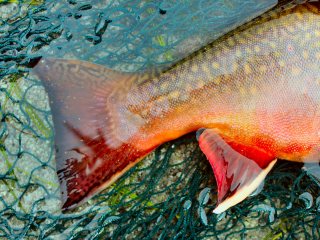 Gary Eckman and I went to one of my annual favorites, Kubswin Lake.  Kubswin is obviously no relation to my baseball team the Chicago Cubs or it would most certainly be Cubslose Lake. Not only that, the fishing would have stunk today but instead, if you like big brook trout, it was no less than phenomenal.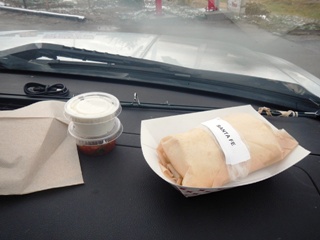 Gary and I arrived at Kubswin at about 10 AM.  We didn't rush to get there because we're experiencing a blast of winter.  We enjoyed the white landscaped drive with a few cups of joe and stopped for some slick tasty burritos at a corner gas station.  As expected, when we got there it was freezing cold, there was stinging wind and two inches of snow.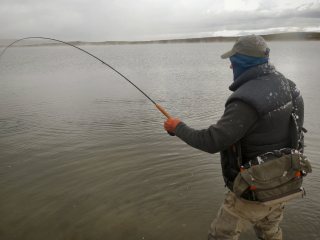 Nonetheless we wandered down to one of my favorite beaches and immediately Gary and I each landed a pair of thick bodied brook trout.  Just as I popped a couple picks of Gary with one of his, in came Dede and Barb, Granny's and my good friends that we often fish Kubswin Lake with.  I knew they were coming and soon the four of us were chucking leeches just past the weed line along the beach.
Fishing was great, the weather was a horror and the combo made for an incredibly fun time.  One nice thing about fishing with friends at Kubswin Lake is that you're near enough to shoot the bull while stripping flies then help each other land fish and take photos.  And did we ever land fish.  Between the four of us we landed nearly twenty of theses fine brook trout in a snowstorm.  There were several memorable ones including a dandy that fell for my brown conehead woolly bugger.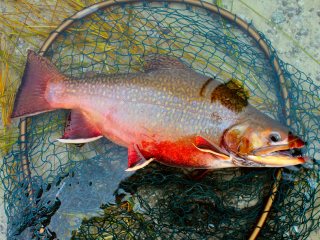 That's all for tonight.  I'm tired and need to settle on the couch for a few innings and a beer.  As promised, the blog is heating up and early in the AM it's to Jenny Lake with old pal Greg Gaddis and we'll be meeting other friend and master of Jenny Lake, Rick Schreiber.