April 10-12

Madagascar – Day 11-13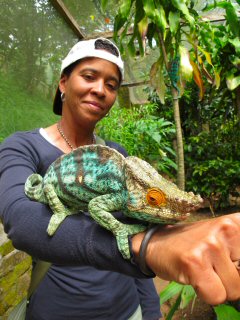 I wish I could tell you that since I signed off on the 9th that we had an on time safe flight to Antananarivo, the capital of Madagascar before heading for the jungles, but we didn't. If you remember, Granny and I were waiting for our flight in a bug infested terminal and some chick nearly got bit by a bat. Then it started raining in the air terminal. Well, from there things went from lousy to horrible. A massive thunderstorm started and went on for at least 2 hours. When I say we experienced torrential rain, I mean the clouds were dumping buckets of water. Our plane ended up being two hours late. Meanwhile, (we didn't know it) our luggage was outside in the storm getting soaked waiting for the flight to arrive. Then when we finally took off two hours late, our short flight to Antananarivo became an adventure of its own. Our 737 got tossed around as if it was a Cessna in a hurricane and the plane got struck by lightning not once, but three memorable times! So, at 1 A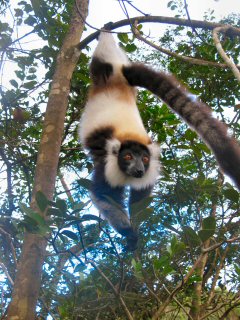 M when we finally arrived in Antananarivo, we were exhausted, beaten and received our two bags completely soaked. Everything we own is drenched. What sucks is, NOTHING DRYS HERE. Oh well, we could be getting snowed on in Victor, Idaho!
Things have been better since the flight. We headed inland to Andisibe National Park. We hired a cool taxi/tour driver that I highly recommend named Jimmy Eliniaina Rabarison (jimmyblume_07@yahoo.fr) and he took us to the park for two days. Jimmy works with the Jenman Safari tour that lined us up at Sakatia Island last week. Anyhow, this isn't a fish story so I'll be brief, but you can't come to Madagascar and not see the lemurs. Lemurs (monkey like creatures but not monkeys) are only found in Madagascar and Andisibe is home to many species of lemur.
On the way to the National Park Jimmy took us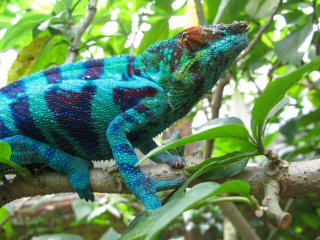 to see chameleons at a chameleon refuge. We saw the wild one yesterday at Sakatia, but at this refuge we saw about 20 different species that we could never just find on our own. Some were very well camouflaged by color while other had not only colors like their surroundings but they even looked like leaves, trees branches and even bark. It was unreal and well worth seeing. Chameleons might be one of the coolest looking creatures we've ever checked out. Enjoy the photos.
Once at the park we settled in at the Vakona Forest Lodge on the outskirts of Andisibe National Park and spent a day and a half hiking and checking out lemurs. We saw five different species includ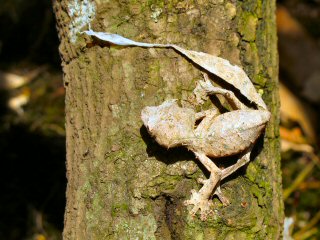 ing the Indri Indri's the rarest and largest of all lemurs. Getting to see them is lucky. We weren't just lucky but we got close to a group of four and as they navigated the trees above we stumbled through the jungle below and enjoyed them for over an hour before they vanished into the rainforest. Before this experience happened I would have told you seeing lemurs was no big deal, but this experience with the Indri Indri's was spectacular. Absolutely memorable!
We've since traveled back to Antananarivo and st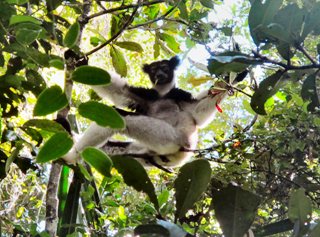 aying at the IC Hotel a few blocks from the airport. First thing in the morning we begin the final leg of our Madagascar trip, true relaxation at Isle St Marie. Look on the north east side of Madagascar for a sliver of an island. Talk about being in the middle of nowhere, this should be it. And geographically, it should be great fishing.