East End Lodge is a beautiful place on the far eastern corner of Grand Bahama.  This is the more secluded part of the island a good hour from the bustling city of Freeport.  Wil's and my comfortable room was a mere 100-feet from the dock where we boarded our flats skiffs this morning.
Today was our last day of the Yellow Dog Flyfishing Ambassadors Summit and all four of us Ambassadors (Jako Lucas, myself, Wil Flack and Oliver White) had separate boats with our own photographer.  Once again my boat mate was Jim Klug.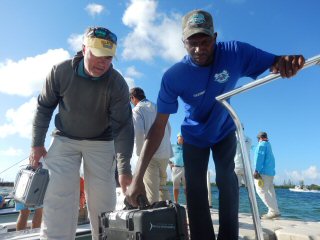 Our guide was Walter and I'm sure at first Walter rolled his eyes as we boarded his skiff.  Klug entered the boat with about 400lbs of camera gear.  While doing so he shot me and Walter a glance and said, "Let's go get a permit boys.  I need some permit pictures."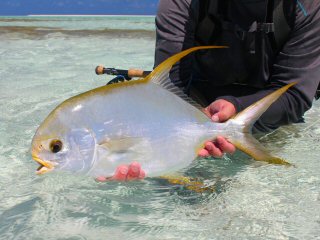 If you read this blog than you know the permit has been no less than cruel to me.  Most recently in St Brandon's Atoll where I got my butt handed to me by the yellow Indo permit while my less experienced buddies each caught one.  I love the fact that they succeeded but the fact that I couldn't get it done was far beyond annoying.  Klug was full of vinegar I wasn't so sure.
While we looked for permit everything else was fair game.  At the very first flat we stopped at Walter thought he saw a school of permit.  I knew it was too good to be true, especially when one of these so called permit devoured my fly.  It turns out it was a hard pulling horse-eye jack.  We have no photo because I lifted him from the water by the leader in a quick effort to save him from a lemon shark.  My 16lb tippet (perfect for a crab fly for permit) snapped.  Luckily the horse-eye hit the water running and escaped the shark.
We continued our permit quest only to find a huge school of bonefish.  What the heck we thought.  Let's catch a few.  Klug launched his drone to photograph the pursuit from above.  There have been lots of sharks all week and this school was huddled tight together because there were a handful of lemons around.  Twenty minutes of casts directly into the school and we couldn't hook a single one.  I guess being scared to death hurts ones appetite.
Finally a permit chance came.  I learned quickly that Walter was the permit guide for me.  He was calm and the first thing he told me was to relax.  He said wait for a 60 foot cast.  I can cast much further than this but my accuracy is better at 60 feet than at 80 and it's easier to watch the permits reaction from the closer distance.
Walters approach made good sense.  What Walter and Klug didn't know however, was that in my hands was my new 7-weight Boron III X that has been lucky all week.  A 7-weight is considered way too light for permit.  Normally I'd have my 9-weight Winston in hand.  But I felt for me that more than the best rod, reel and line set up, I needed luck.  I kept the secret to myself.  Made a good cast.  Got a look from the permit but then he took off.
Most good permit anglers try to land their crab fly a few inches in front of a permit.  The idea is that the permit has little time to think beyond – "There's a crab and it's getting away" – and they eat it.  I agree with this technique but like any angler, don't always make that perfect cast.  I got two more opportunities but felt that I could've made a better cast.  It was time for a Kalik beer.
Permit number four was with a school of about six.  I haven't cast to a "school" of permit in years.  It always seems to be extra spooky individuals.  Sure enough as we approached the school moved away at a rapid pace.  Walter poled after them the best he could but getting a cast looked grim.  But then one fish stopped, turned and came straight for the bow of the boat.  I thought he sensed us and was coming in for a confirmation to alert all permit in the area.  But he stopped again and ate something off the bottom.
Cooler than I normally am around permit, I launched the cast that Walter, Klug and myself were waiting for.  My crab splat less than a foot in front of the permit.  Like often happens, the permit spooked but only ran about 15 feet then turned and came back.  I gave my crab a four inch twitch then stopped.  POW!  This permit dipped and lunged and ate my crab.  I stripped gently to make sure he had it and went tight then strip set and all hell broke loose!
As my backing crackled through the guides of my Winston and the handle of my smooth sailing Bauer Reel spun at a blurring pace, Walter yelled with excitement, "What rod is that?"
"7-weight!" I hollered back, "Don't worry guys, I got this!"
Though we had to chase this beautiful permit, in less than 15 minutes I was out of the boat and tailing the fish of the week.  There has perhaps been no better time for me to execute catching a permit.  I've always wanted to catch a permit in the Bahamas.  And I had Jim Klug there to photograph us!
Klug doesn't mess around.  The second I hooked this permit he rang the other boats in order to have all camera crew there for the catch.  This lovely permit will likely be one of the most photographed in history.  Finally, after looking him eye to eye and head to tail, I let the permit swim away.  Spectacular!
I didn't catch another permit nor did anyone else.  That's pretty normal – one and done when it comes to permit.  In fact I knew another was out of the question so Walter, Klug and I hunted specifically for barracuda and shark with my 9-weight and a popper attached to wire.  Cudas are hard to catch these days.  They wise up to anything humans toss at them and keep their mouths shut.  But not this cuda.  Yet another great fish on the last day!
Leaving Idaho five days ago in the middle of a beautiful summer as our rivers were beginning to take shape for the Yellow Dog Flyfishing Ambassadors Summit seemed like an awful idea.  But H2O Bonefishing and East End Lodge proved it wasn't.  My fishing these last four days here at Grand Bahama has far exceeded my expectations.  So much that I'll be back sooner than later!
Next in line should be less than 40 hours away when I take Granny for an evening on the Rizzo River.  Stay tuned!
A special thanks to Yellow Dog Flyfishing Adventures, H2O Bonefishing and East End Lodge for making this incredible flats fishing trip possible!